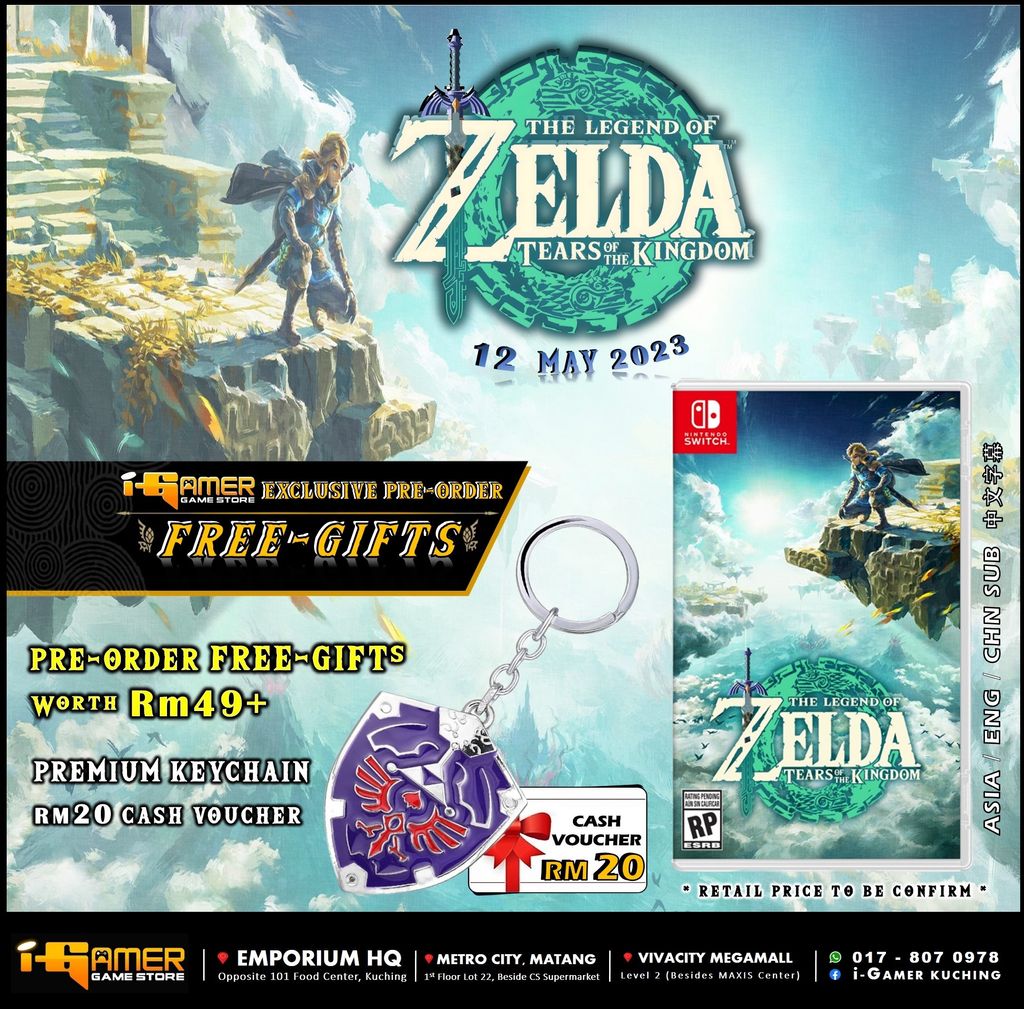 *PRE-ORDER* NS ZELDA TEARS OF THE KINGDOM (ASIA/ENG/CHN 中英文版)
In this Sequel to Zelda: Breath of the Wild, This Latest Zelda Series: Tears of the Kingdom will take you to An Epic Adventure Up into the Skies Across The Land and Skies of Hyrule!
.
𝗘𝗻𝗷𝗼𝘆 𝗘𝗫𝗖𝗟𝗨𝗦𝗜𝗩𝗘 𝗙𝗥𝗘𝗘 𝗚𝗜𝗙𝗧𝗦 𝘄𝗼𝗿𝘁𝗵 𝗥𝗠𝟰𝟵+ !
𝙁𝙍𝙀𝙀 Hogwarts School Premium Keychain
𝙁𝙍𝙀𝙀 RM20 Cash Voucher

PS4/NS HOGWARTS LEGACY
Asia R3/Eng/Chn Sub 中文字幕
Official Release Date: 04 April (NS: 25 July)
Estimated Price: Rm25x-Rm26x
.
Welcome Visit Our Outlets / PM Us to Place Your Pre-Order
.
𝙞-𝙂𝘼𝙈𝙀𝙍 𝙂𝘼𝙈𝙀 𝙎𝙏𝙊𝙍𝙀
𝗘𝗠𝗣𝗢𝗥𝗜𝗨𝗠 𝗛𝗤
Opposite 101 Food Center Kuching
maps.app.goo.gl/e4udQvdhH5yr6L1e9
.
𝗠𝗘𝗧𝗥𝗢𝗖𝗜𝗧𝗬, 𝗠𝗔𝗧𝗔𝗡𝗚 𝗢𝘂𝘁𝗹𝗲𝘁
First Floor, Lot 22 (Beside CS Supermarket)
goo.gl/maps/sJipSrRHhuq1Tbon8
.
𝗩𝗶𝘃𝗮𝗖𝗶𝘁𝘆 𝗠𝗲𝗴𝗮𝗺𝗮𝗹𝗹 𝗢𝘂𝘁𝗹𝗲𝘁
Level 2 (Beside Maxis Center)
.
Outlets and Online Service Hours:
12:30NOON - 9PM DAILY
.
Place your Pre-Order with us now at:
i-GAMER KUCHING (Click Link)
017 - 807 0978 (Click Link)
---