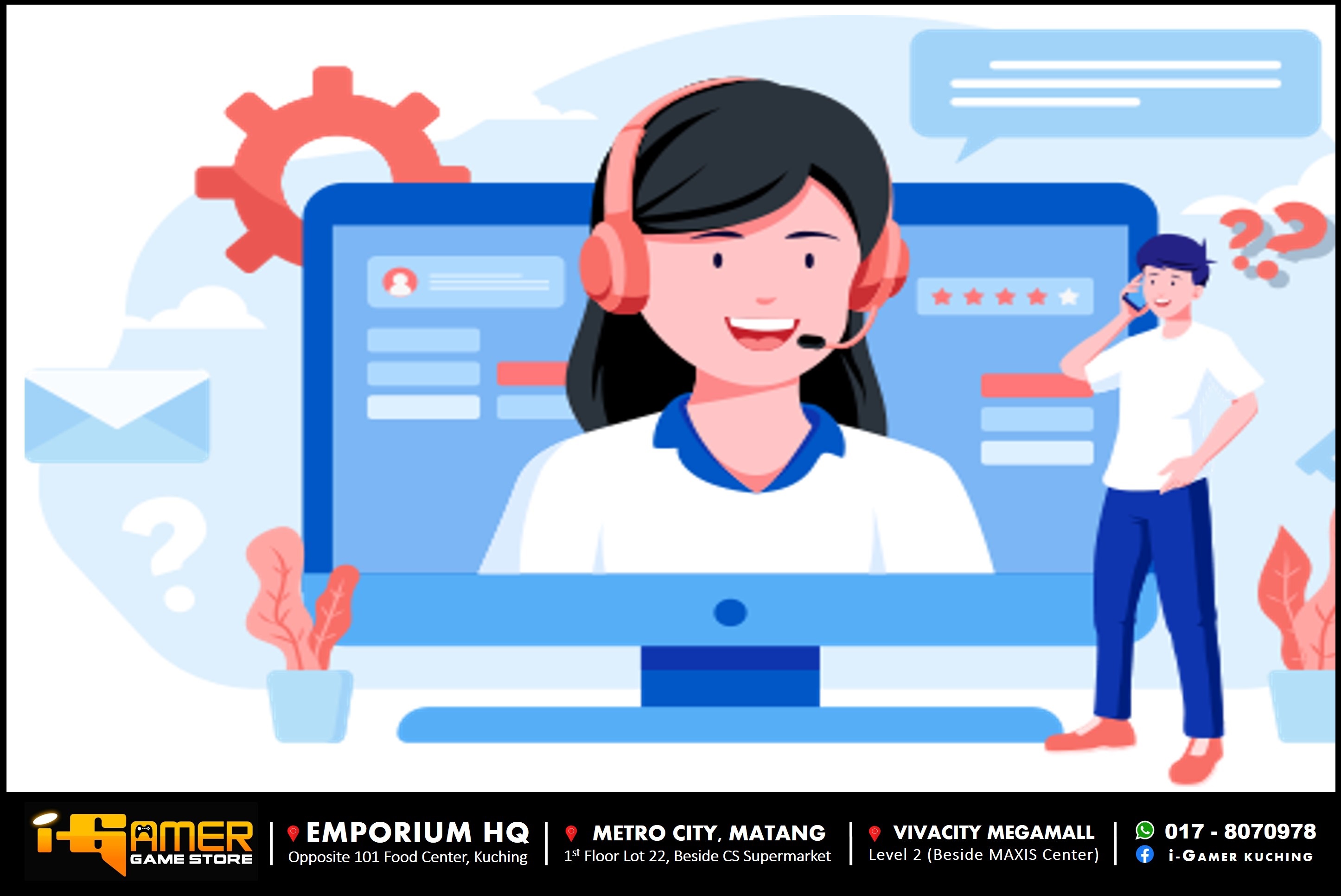 Thank You for Supporting us and We Hope that we are Able to Serve you with A Pleasant Shopping Experience at our Stores.


If you experience any difficulties with our products please send us a message to our Facebook Page or Whatsapp Hotline and our service staff will assist you at the soonest time possible.


Product Warranty Terms & Condition
1. Customers are REQUIRED to keep and show your purchase receipt for any warranty purposes.
---
2. All original packing materials (Box, Plastic Packing, etc) MUST be kept during warranty period.
---
3. All Opened Sealed Products including Hardware and Software (Games) are NOT Refundable and NOT Exchangeable.

*We strongly advice all customers to properly check the purchased item before opening the seal (game region, compatibility, requirement, product description, etc.).
*Please consult our service staff if you had purchase the wrong item and had already opened the seal. Our outlet staff will try our best to help you re-sell the item or take trade in as a used unit.
---
4. i-Gamer Game Store reserve the right not to provide any warranty for products returned with a broken warranty seal.

*We strongly advice customers to send the products directly back to our retail outlets if faced with any difficulties instead of opening it for inspection.
---
5. Postage & Warranty Handling Fee is chargeable after the 'Free Warranty Handling Period'. Please refer to the warranty details stated in the i-Gamer Warranty Card located on the product box packing.
---
6. Product Warranty Does Not covers cosmetic damages, users negligence (water damage, lightning damage, impact damage, etc) and also other terms and condition listed by the following manufacturers and distributors:

Nintendo : https://www.maxsoftonline.com/support
Sony : https://www.playstation.com/en-my/support/hardware/warranty/
Microsoft : https://support.xbox.com/en-US/help/hardware-network/warranty-service/microsoft-device-service-terms-and-conditions
---
Pre Order Terms & Condition
1. All Pre-Orders Deposit for upcoming products or special order request are NOT Refundable / NOT Exchangeable / CANNOT BE CANCEL as we had already log your order with our supplier upon accepting your deposit in order to secure your order.
---
2. All Pre-Orders items must be collected within 2 WEEKS upon arrival of the item.
i-Gamer Game Store reserve the right to forfeit the deposit and release the item for sale to other customers after the 2 weeks reservation period.
*We strongly advice customers to double check and ensure the contact information provided to us in the pre-order receipt is correct in order for us to notify the arrival of the pre-order item(s).
---
3. Pre-Order Deposit is only Refundable under these circumstances

*We are not able to fulfill your order within the promised time period (Rarely, but happens sometimes due to supplier allocation especially for limited edition items. We always try our best Not to Over-promise!)
*The information (estimated price, package, release date, etc) which we provide to you when pre-order is wrong information or last minute change from the publisher or supplier.
*Arrival of the game delayed more than 3 working days from our retails side due to unforeseen circumstances such as logistic delays,airport security inspection, etc
* The Publisher changes the official release date 6 months away from original release date or become to be announced.